Friendsgiving is a popular term that popped up around a decade ago.  Of course, the idea of sharing a Thanksgiving meal with friends goes back much further than that, but the term seems to have been coined around then.  I imagine that the earlier end of the Millennial generation were responsible for this fad term.
If you look up the origin of Friendsgiving, many will attribute the potluck dinners during the Thanksgiving episodes of Friends as the inspiration behind the term, but who really knows.  Interestingly, I saw an article saying that many Millennials mistook the tv show for a documentary.  Now, I don't believe that for a second.  I don't know a single Millennial that doesn't know what Friends is.  I think Millennials either love it or hate it.  I am in the 'love it' group.  I do think though the author of that article was confusing Millennials for Generation Z.  I am tired of Millennials being blamed for everything, especially when we are being lumped together with the younger generation.  The kids who are college-aged right now are not Millennials; they are Gen Z.  I just thought I'd clear that up.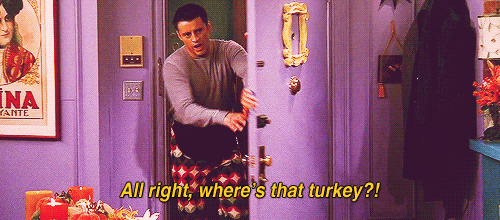 I've only ever been to one other Friendsgiving dinner before, and it was my sophomore year of college.  We were operating on a college budget, college student cooking skills, and only one kitchen to share for everyone.  While this meal was not the same of the elaborate Cafsgiving meal that we got every year in the college cafeteria, we did share a good meal together and even better, some quality time with friends.
This year, our friend group in the DC Area (though most of them live in Silver Spring) decided to do Friendsgiving.  I like the idea of Friendsgiving because you can veer away from traditional dishes, but you also get to experience some of what your friends eat at Thanksgiving with their family.
My contributions to the meal were not really representative of what my family eats on Thanksgiving, aside from the cornbread stuffing.  My mom makes this delicious sausage cornbread stuffing.  I made something similar, but using sweet potato cornbread.  I also made friend Brussels sprouts, which is absolutely not traditional in my family.  I may be the only member of my family that actually likes Brussels sprouts.  Then, I finished with making a caramel chocolate tart, an out of the box dessert for me.  It was an opportunity to experiment with dishes that my family probably wouldn't want at Thanksgiving.
My inspiration for my Friendsgiving dishes largely came from the Food Network.  Last weekend, I was sitting at home watching the Food Network as I was making some other treats, and I saw a couple things that really stood out.
While I was watching The Kitchen, Christian Petroni made a guest appearance.  Christian Petroni won the latest season of Food Network Star.  He is an Italian-American chef from the Bronx, and you can tell from the moment he opens his mouth.  Christian is vibrant personality and a very skilled chef.  He currently is a judge on The Ultimate Thanksgiving Challenge alongside Alex Guarnaschelli and Carly Hall, so I would say he is in great company.  I thought he did very well on his guest appearance on The Kitchen and as a judge on the Thanksgiving special.
Christian appeared on the "Friendsgiving" episode of The Kitchen, so I think this was an appropriate place for me to find inspiration.  I love Brussels sprouts, so when I saw he was making them, I certainly was intrigued.  I have made Brussels sprouts so many ways, so it would take something really special for me to want to follow a recipe.  What got me here was his apple cider reduction.  When I saw him do that, I just knew I had to make these.
I decided to follow the entire recipe, and make the Brussels sprouts fried like he did.  Normally, I roast Brussels sprouts in my cast iron skillet.  I have absolutely have had fried Brussels sprouts plenty of times at restaurants, but I don't really deep fry my food.  He also gave this great tip that I hadn't seen before where you make a cross cut about 3/4 of the way through the Brussels sprouts so they would get cooked on the inside.  It was a great tip!  The Brussels cooked evenly, and it made for a beautiful presentation.
When I went to fry the Brussels sprouts, I had two pots of canola oil heating on high heat.  I couldn't find my thermometer, so I had to guess when the oil was ready.  The interesting part was that one pot was starting to boil, but the other pot was just still.  I put some sprouts into the pot that was bubbling, and once I did, it felt like 4th of July in my kitchen.  The oil was popping and shooting out everywhere like Fireworks.  It settled once the oil adjusted to having the Brussels sprouts in there, but I also I turned down the heat to medium high to hopefully help from this oil getting too hot.  The other pot still wasn't bubbling, but at this point, I really needed to get through these Brussels so I could get out the door, so I dropped some in the second pot, and the same thing happened! Oil was shooting everywhere.  I just kept dropping sprouts in the pot and taking cover.
In all, it took two batches of frying in each pot to get all the sprouts cooked.  I wish that they had gotten a little more crispy, but I really needed to get the show on the road.  The good thing is that they were cooked through perfectly and had a nice little crisp on them, especially the loose leaves.
For the sauce, I reduced apple cider vinegar, honey with shallots and then added apple cider to reduce more.  The reduction was sweet and tangy and paired perfectly with these Brussels sprouts.  I felt confident in this finished dish.  This was certainly not something I'd be ashamed to serve anybody.
I will say that I got so many great compliments on the Brussels at the meal.  I really think it was the reduction that made this such a hit.  That reduction really brought these veggies to life.  It brought so much flavor with just a few simple ingredients.  I didn't even have to much salt.  My favorite bite was getting some shallots in the the sprouts.  After this dish sat for awhile, the shallots had this sweet pickled taste that was just fantastic.  I could keep eating that over and over again.
I know that I was making someone else's recipe, but I was proud to have received so many good comments on a dish I had never made before.  I do like to show off my cooking skills for my friends though, so I would call this a success.  Any time I make food that tastes good and makes people happy when they eat it, I feel like I did a good job.
While I was working on the Brussels sprouts, I simultaneously was working on a second side dish: sweet potato cornbread stuffing (called dressing in the South).  I grew up eating a sausage cornbread stuffing that my mom makes, so when I saw this next dish on Food Network, it felt like a good familiar addition to our Friendsgiving meal.
In another Friendsgiving themed episode on Food Network (this time on Trisha's Southern Kitchen) I saw Trisha Yearwood cook two dishes that I wanted to make: a crunchy green bean salad and sweet potato cornbread dressing.  Since I was already making a vegetable, I wanted to make the stuffing.  Nobody was planning to make stuffing, and it just isn't Thanksgiving without some kind of stuffing.
This stuffing was not difficult.  It just had a lot of steps.  I made sure to get an early start on making the cornbread so it would have time to fully cool before making this stuffing.  In case the name seems confusing, this stuffing doesn't have sweet potatoes in it; it is a sweet potato cornbread made with sweet potato puree.  It gives it this gorgeous orange color that sings Thanksgiving.  I made the corn bread in my cast iron skillet.  I think this is the perfect means for cooking cornbread.  You get an amazing crust on the sides and bottom.  I honestly don't know why cornbread is ever made in anything other than cast iron.
Other than the initial step, this dish comes together very much like my mom makes her stuffing.  You have to cut the cornbread into cubes and toast them in the oven.  Then, you make the sausage and veggies for the stuffing and mix everything together with chicken stock (this recipe adds apple cider as well) and bake it in a casserole dish.  The recipe says to put it in a 9 inch square casserole dish, but I swear that is not big enough to hold the ingredients.  The one that Trisha used on TV was a very deep dish, so it worked, but I would suggest using a 9 x 13 casserole dish.
I think the stuffing turned out fairly well.  The only thing I think I'd do differently is making sure to let the bread break up more before caking.  When mixing everything together, I was afraid of everything getting too soggy.  Some of it broke down into what I know it should be like, but it was mostly a lot of the full cubes, which I think made the stuffing a bit dry.
I actually found this to be better as leftovers.  I was able to infuse moisture back into this pan frying it with butter and making a hash with the Brussels sprouts added.  I actually got the idea to do this because I saw Bobby Flay making breakfast hash with Thanksgiving leftovers for brunch on one of his many shows.  I got a gorgeous crust on it that I think Bobby would like, and at the same time, the corn bread was moist and melted in my mouth.  I added a sunny side up egg on top to get that brunch feel.  It was a really good dish, especially with the apple cider flavor of the Brussels sprouts added.
So far, this was a lot of work to bring these two dishes together.  However, Thanksgiving wouldn't complete without pie.  We had a bunch of pies represented, so I wanted to do something a little different that shows off my baking skills.  I had already been working on the pie, but I had to make time to make sure all the ingredients set.
My pastry cooking is nowhere near the level of my savory cooking skills, but I can make a pretty mean dessert.  When it comes to baking for a group, my default is to make something I know I can make well.  That doesn't mean I don't experiment, but I tend to stick within things that I think I can turn into a success.
For this dessert, I found a recipe on NY Times Cooking for caramel chocolate tart.  I know I am not good at making pie crust, so I was trying to stay away from a traditional pie.  I felt confident that I could make a tart crust.  I had never made caramel before, but I also felt I could manage that challenge.  Finally, this pie is topped with a chocolate ganache, and I know I can make a smooth, shiny ganache.  This recipe came off as something sophisticated that would show off my culinary skills.  I knew there was a risk in it turning up terribly and me having to show up with no dessert.  I really wanted to push myself though and show what I can do.
The only issue with making this dessert is that I do not own a tart pan, and there just wasn't time to go out and buy one.  So, I decided to create a makeshift tart pan by wrapping my glass pie pan in aluminum foil.  I knew that I wouldn't get that beautiful trimmed edge on the crust that you would get with a tart pan, but I believed the taste would be there.  The foil would also allow me to pick up the entire tart and remove it from the pan if I wanted (though that is not what ended up happening).  I left it in the pan to serve, and it was just fine.
I had never made a tart crust before, but this one came together beautifully.  It had a good texture to it, something to really bite into but not crunchy.  Oh, and did I mention it was chocolate?  Someone in the comments section of the recipe mentioned that after they made this, they don't know why they would ever make a non-chocolate crust, and that is just how I felt.  The chocolate crust was my favorite part.
I also had never made caramel before.   At first glance, people think making caramel is easy.  They say, don't you just heat sugar?  The short answer is 'sort of,' but there are so many things that can go wrong when making caramel.  You really have to watch it carefully because it can go from on the right path to a total disaster in just mere moments.  Don't believe me?  Go watch some cooking competitions on Food Network, and you will see.
The key to a good caramel sauce is adding the cream at just the right time and working quickly to get it incorporated.  For awhile, I didn't think my sugar was going to turn color because it was bubbling clear for a really long time.  Then, it finally turned the amber color that I was looking for.   This recipe called for a stick of butter and two tablespoons of creme fraiche to be added in addition to the cream.  I had to work very quickly to whisk everything together because as soon as you add the dairy, the whole mixture starts to vigorously bubble.   The good news is that I must have done something right because it turned in this this smooth, silky substance with that perfect caramel color.  I poured the mixture into my tart crust to set.
The last step to make this pie is topping it with a dark chocolate ganache.  I really love a dark chocolate ganache.  It is rich and not for the faint of heart, but when well done, it is this gorgeous substance that can enhance your desserts both in taste and presentation.  To make ganache, you basically just add hot cream to chocolate and whisk until the chocolate is melted and smooth.  You do want your chocolate to be broken up into pieces in order for this to work well.  The finished product when set should have a shiny gloss to it.
After making the ganache, I really needed to get this pie to set quickly, or I would never make it to Friendsgiving.  I put the pie in the freezer to speed up the process while I worked on my Brussels sprouts and stuffing.  At the last minute, I pulled out the pie.  It looked smooth and perfect.  I sprinkled some fleur de sel (salt crystals) for a nice finish.
Fortunately, this tart turned out so well.  I definitely got some ooh and awws when I walked in with this shiny ganached topped tart.  This was probably one of the more aesthetically pleasing desserts I have made.  I know it would have been even more beautiful had I used a tart pan, but honestly, my pie looked pretty similar to the one in the recipe (and that was professionally photographed in a pleasing light).  I was very proud of how this pie looked and tasted.  The layers were there, and so were the flavors.  It certainly was rich, but what else do you expect when eating a thick layer of caramel topped with ganache.
I honestly was pleased with all my Friendsgiving contributions, but enough about me.  Let me talk about some of the other dishes presented.  We had so much food present; it was hard to try everything.  There was just about every Thanksgiving dish you could think of: turkey, mashed potatoes, gravy, stuffing, green bean casserole, Brussels sprouts, cranberry sauce and more, including a number of savory pies.
I really enjoyed so many of these savory dishes, but I think my two favorites were the Brussels sprouts I made and the turkey cranberry pie that my friend, Nate, made.  There were a lot of jokes that this was soup pie because the gravy and turkey created a lot of liquid in the cooking process, but I didn't really care about that because this was one of the best things I put in my mouth all day.  The flavors were well developed, and it was like the Thanksgiving meal in all in one bite.  I could eat that over and over again and be happy.  What a comforting dish that also incorporates my favorite part of Thanksgiving: cranberry sauce!  This was a really good job by Nate.
So, I mentioned earlier that there were going to be a lot of pies represented, but seriously, I was blown away by our pie table.  We had pumpkin custard pie, key lime pie, sweet potato pie, pecan pie, chocolate peanut butter pie, butter finger pie, and my caramel chocolate tart.  We were certainly not lacking in the pie department.
I knew I couldn't try all these pies, so I tried three of them: my tart, the pumpkin custard pie, and the key lime pie.  The great thing about custard-based pies is that they are light and not terribly filling.  This was good for me because my tart was so rich and heavy, so they balanced out.
While key lime pie is not what comes to mind when  think of Thanksgiving desserts, it is a pie that I enjoy very much.  Andrew (one of many with that name in our group) did an excellent job.  The texture and flavors were just great and refreshing.
Then, I moved onto to Anthony's pumpkin pie.  I had a mini freak-out because I instantly recognized this as a pie that my mom makes every year.  I know it is a Keebler recipe that is found in those pre-made graham cracker pie crusts, but I had never actually seen anyone else make this pie before.  I absolutely love this pie!  I never was huge on actual pumpkin pie, but when we started making this for Thanksgiving, I was hooked for life.  It is smooth and creamy, and the pudding is what really makes it.  Whoever said 'let's mix pumpkin with vanilla pudding' is just my kind of person.  This is the one thing I make sure is on the family menu for Thanksgiving.  If not, I will always volunteer to make it.  Anthony's pie was delicious, and tasted just how I love it.
After all this food, the tiredness hit me at one point, and I knew I needed to go home and take a nap.  It was a very satisfying nap, by the way.  What I learned from this Friendsgiving though is that it is such a great idea!  I enjoyed an amazing meal, getting tastes of everyone's different cooking styles.  I also got to spend the afternoon with good friends, listening to nostalgic music, laughing, and eating to our stomachs' content.  I am thankful for great friends who have supported me in more ways than I can count.  I am glad to have two Thanksgivings this year.  Now, I just have to wait until Thursday to do this again with my family.
Happy Thanksgiving, everyone!